Roasted pork tenderloin with orange maple glaze and vegetables
Today, I am sharing a very scrumptious recipe for cook pork tenderloin that I like to make when visitors or family come over for supper. It looks lovely and amazing, yet it's quite simple to make. The meat is focused on delectable flavors and is cooked along with diced potatoes, Brussels fledglings, and green beans. Who doesn't cherish a decent sheet skillet feast?!
While these folks are cooking, you can set up my gleaming, prepared maple coat sauce to sprinkle over delicate meat.
Pork Loin versus Tenderloin
Out of all the pork cuts, I'd say tenderloin is my #1. It's inclined yet extremely delicate and succulent and tastes lovely. You could be confused with believing it's a piece of chicken or turkey.
Albeit the names sound comparable, pork tenderloin is not quite the same as pork flank. Pork tenderloin (the lower one) is a long, meager filet of meat and comes from an alternate piece of the creature. The flank is a lot more extensive, a bigger part, with more fat on it and lighter in variety. For this specific recipe, you could utilize either, yet pork tenderloin cooks much speedier, so you should change the timings.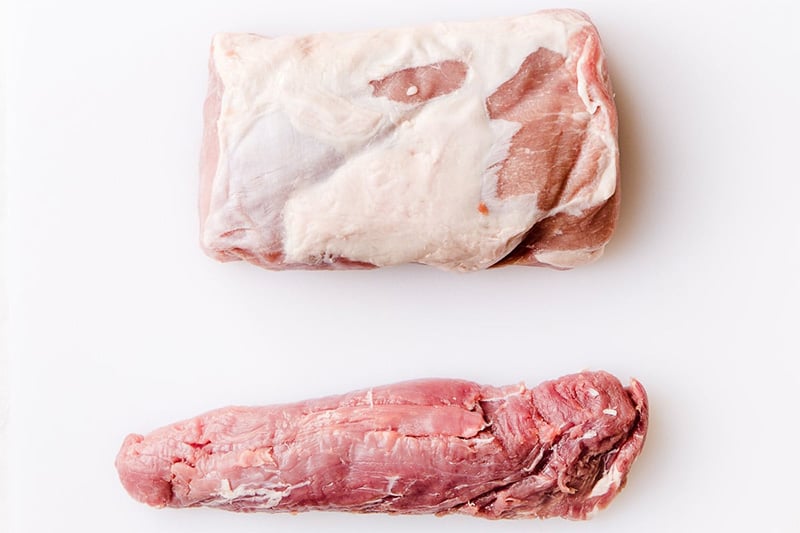 Calories in pork tenderloin and flank are about something very similar in the event that you go by meat just (145-150 calories for every 100 grams), however, the midsection as a rule accompanies more fat outwardly and is then seriously satisfying. Both are high in protein, B-nutrients, and minerals like selenium, zinc, and magnesium.
Cooking times for pork tenderloin in the 180-190 C/355-385 F stove are around 25-30 minutes for each 500 g or 1 lb of meat, in addition to 5 minutes rest. Pork tenderloin for the most part weighs somewhere close to 400-500 grams.
For pork flank, it's 25 minutes for every 1 lb of meat in the 160-175 C broiler. The flank piece typically gauges nearer to 1.5-2lb or 700 – 900 g, so around 35-40 minutes of cooking time is required.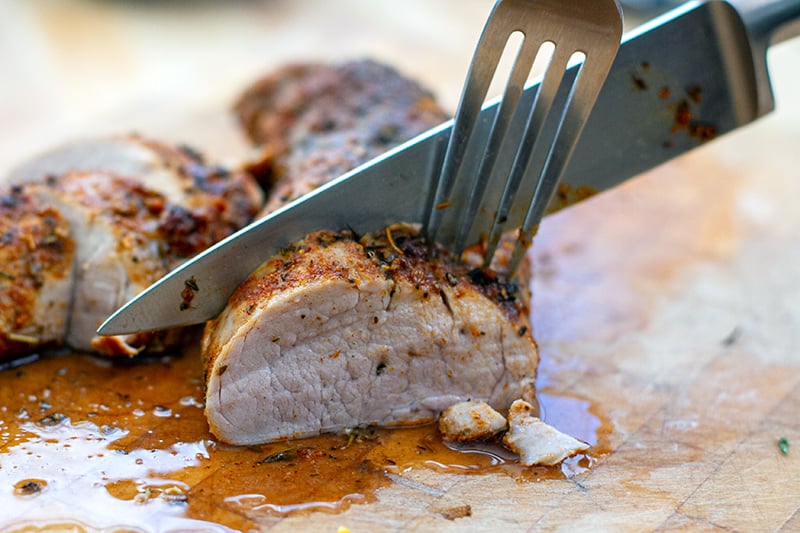 Orange Maple Glaze SAUCE
There are numerous delicious and simple sauces for pork tenderloin, so you don't need to go with my recommended coat. I in all actuality do feel that the meat works out positively for somewhat sweet, acidic sauces, thus why fruit purée is frequently presented with pork.
For this sauce, I utilized squeezed orange, maple syrup, and Dijon mustard as the key fixings. The fluid is decreased and thickened with margarine, which likewise gives it that beautiful reflexive completion. You can utilize ghee rather than a spread for a sans dairy variant. Furthermore, this sauce can be made somewhat early, warm, and weaken with just enough water on the off chance that it thickens a lot in the refrigerator.
Instructions
Preheat the oven to 180 C / 355 F. Line a large flat baking sheet with a piece of parchment paper and brush with a little oil.
Combine the rub ingredients and sprinkle all over the pork tenderloin. Rub it in on all sides. Place the fillet in the middle of the baking sheet and scatter the potatoes all over. Pop in the oven for 10 minutes.
After 10 minutes, increase the temperature to 200 C and remove the tray. Add the Brussels sprouts and green beans and drizzle with a little more olive oil. Sprinkle with a few pinches of salt. Put the tray back in the oven for 20 minutes.
Prepare the glaze sauce. Add orange juice, lemon juice, and mustard to a small pot and place over high heat. Once it comes to a boil, allow it to bubble away for 2-3 minutes (reduce the heat slightly if it starts to foam too much). Stir often. Then add the maple syrup and cook for two more minutes, stirring frequently. Finally, add the butter and cook for another minute, until thick and glossy. Set aside.
Once the pork and veggies are done, remove them from the oven and transfer the pork tenderloin to a cutting board to rest for 5 minutes. Stir the vegetables and put them back in the oven for a few more minutes to stay warm.
Once rested, slice the meat into medallions and serve on a platter or baking sheet over vegetables. Drizzle with a few tablespoons of the glaze sauce and serve the rest on the side.